9/2/15

Have a great week!

PROFESSOR LOUIE & THE CROWMATIX
"a tasty mix of rhythm and blues and rock & roll. Americana at it's best" - Village Voice

Grammy nominated Professor Louie & The Crowmatix were inducted into the International Blues Hall Of Fame - New York Chapter & The Canada South Blues Hall of Fame.

Check out new blog Professor Louie - 2015 Recipient of Robert H. Chambers Award for Excellence in the Traditional Arts

Had a great time performing in concert on
Sat. Aug 29th - Professor Louie & The Crowmatix and Special Guest Sarah Potenza from the TV show The Voice and her band performed at The C-Note in Hull, MA
Beautiful weather on the beach, great crowd and good sound...what could be better! PL&C

Professor Louie & the Crowmatix would like to thank Doug, Marcy, Sara & Rachel Metzgar for having us perform at The Metzgar Festival. A wonderful, amazing private party and yearly neighborhood event. Delicious food, wonderful musical acts and more... So many friends & fans partying and having a good time. Thanks so much! PL&C
Professor Louie & The Crowmatix had a great time on Fri. Aug. 21st as part of the SUMMER HOOT - FESTIVAL at The Ashokan Center in Olivebridge, NY.
Special thanks to Jay & Mollie, Mike & Ruthy and all the staff at the center. Happy to be part of such a great festival! PL&C

Check out all the blogs -
PL&C, Commander Cody & NRPS - Sugarloaf Performing Arts Center Review - Stan Beinstein: Radio Executive and Concert Promoter
Professor Louie - By R O Donnell - Fourth Coast Entertainment and
Bob Price interviews Gary Burke - for Dylan Festival Warwick Winery Dylan Festival

Check out the Blog - Rock 'n' Roll Barn - CD Single from Professor Louie & The Crowmatix new CD Music From Hurley Mountain to be released in the fall.
See the list of some of the great artists who recorded at The Rock'n'Roll Barn.

Check out blog PL&C Soul Blues CD *****Review by Brian Robbins.

Please sign in at the bottom of the page for Professor Louie & The Crowmatix email list...we want to keep in touch with you and let you know when we will be in your neighborhood! Thanks......PL&C
Wings On Fire [6.05.2012]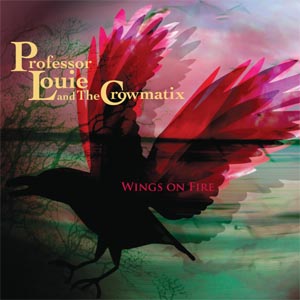 NOW AVAILABLE IN VINYL


Highest Quality Vinyl - ten great songs with a free Drop Card. Download the Drop Card and get the additional three songs from the original CD.
Check out this link
A Trip To The Moon
Upcoming Shows
---
Come on out for a fun time!
Sat. Sept. 5th
SPORTSMEN'S TAVERN
Professor Louie & The Crowmatix
with Buffalo's finest Horn Section
The Hit Men
performing
The Music Of The Band
and more...
Buffalo, NY
Show: 3:00 PM
Sun. Sept. 6th
Professor Louie & The Crowmatix
Cornstock Festival
Three Day Celebration of Roots Music
Lazy Brook Park - Tunkhannock, PA
PL&C Show: 2:00 PM
Hope to see you at one of these great shows! PL&C
---
---
7/30/2015
Prof. Louie - 2015 Recipient of Robert H. Chambers Award
For Excellence in the Traditional Arts
5/26/15
PL&C, Commander Cody & NRPS - Sugarloaf Performing Arts Center
Review - Stan Beinstein: Radio Executive and Concert Promoter
5/1/2015
Professor Louie - By R O Donnell
FOURTH COAST ENTERTAINMENT